Design
Features
Performance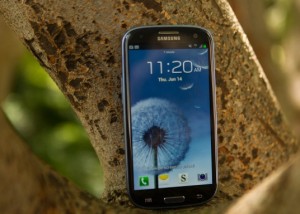 Whats good: The Samsung Galaxy S3 comes equipped with Android 4.0 Ice Cream Sandwich, 4G LTE/HSPA+ 42 , 8-megapixel camera as well as a quick and dual-core processor all for an affordable price.
Whats bad: in bright environments the screen can prove too dim, S Voice, the "siri" alternative seems a bit disappointing.
The final verdict: Excellent performing hardware as well as some nice software features make the Samsung Galaxy S3 an excellent phone overall that is closely comparable to the HTC One X as far as features and performance is concerned, if you can get past small issues with screen brightness you will find an excellent top tier device in most regards.
Price: $139.99 – $199.00